Yesterday, we went for lunch yesterday at Milina – on the inner gulf of the Pelion peninsular.  The winds were so strong that a deep sea swell sent water crashing over the edge onto the taverna floor.  We were requested to sit, in safety, on the other side of the road, closer to the inner table area, nearer the kitchen.
Recognising the tender beginnings of cutting the cords and moving on earlier this morning, the rest of my day was beginning to open to seeing from new perspectives.
Later, in the early evening, during my daily chronicling of the build, I realised I had to move to higher ground in order to view the intense work that been undertaken by the ironmongers team, who were placing the framework, ready for the second floor to be laid.
Again these new, higher vantage points gave a very different view of the evolving structure and the environment it was living in.
I moved deeper into the landscape – navigating my way through spiky, course undergrowth – painfully reminding me to watch my step and navigate with caution.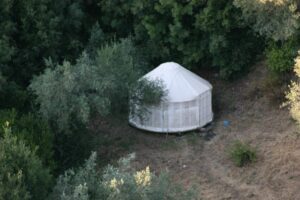 Bridging from this new outlook over into the known, it was a joy to see, with fresh perspective,  the structures that had housed so much these past few years in times of tender, uncertain beginnings, in order to now step strongly and boldly into more visible, tangible, sturdy structures, since the task at hand was now ready to enter a broader and far-reaching perspective.
As I circled back to my known world, I knew I too had completed another significant transition of liberating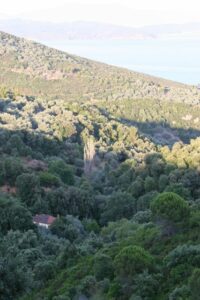 structures, a phase of it at least.  What I had presenced (and written about) in service of the collective, I was applying consciously to myself.
What was it I was applying?
"I need to create structures that are strong, resilient, and dynamic.  I need to tend the latticework – inner and outer – and bridge the realms that allow the movement from one structure to the next – with support, love and consciousness.  I need to tend, maintain, and nourish that which provides a protected and generative home place – a place that I can live together, with others.  I need to liberate the structure of community from my DNA knowing and bring my individual actions into collective effort and service – with the termites as my guide."
Some of the more disturbing and even frightening moments of descent had been completed – and perhaps now, I was sensing my ability, with greater confidence,  to see the newness emerging from the profound strength of ground, that only these former perspectives could have provided.