Blog
Greece BLOG POSTS
On the face of it, its hard not to lose heart.  Yet, in a sense, the situation here in Greece is getting more real – with the deeper layers of culture exposed through the events these past months. It has informed our conversations within our local field here and shown the nature of the real challenges ahead.
So we, Anthi, Odysseas, Maria and I met these past weekend – sensing into the call for our work here – now.
It is taking slow, deliberate effort and regular connection – both in person and virtually – exploring the edges of our own passions, trust, safety, fears – our own operating systems, practices, forms, blind spots, wounds.  Also, and importantly, we are sharing knowledge of cultural nuance of place and people – as indigenous citizens and 'others' who now see this land as home.  Perhaps we are prototyping the learning journey necessary to re-weave the fabric of a highly creative, powerfully influential, proud and relational people – now shamed and demanded to conform – and as a result, losing hope in themselves and their own abilities to re-balance their own lives – a wound that runs deep.
Death came a-knocking
When all seemed quite Perfect
Sloughing off Edges
With the precision
Of a Surgeon's knife
Cutting to the Core
Until Soul was wide open
Exposed to bright sunlight
Heart's beating, sore Read More »
This week – Sarah, Anthi and I had a sacred conversation – one of those conversations that cracks the ribcage open and goes straight to the 'heart of the matter' – "no messin'", as my friend Charlotte says with her Scottish accent.  It was also a conversation that converged many inquiries I have been having with a good friend and learning partner, Mark Siebert. Anthi, Sarah and I were inquiring into what is really happening to this land – and we were listening into how to best serve.  We knew that we had to descend – to deep dive to hear and see more.
This morning I woke up to this email from Sarah Whiteley, one of the stewards of Axladtisa-Avatakia, the learning community in Greece that I wrote about in Walk Out Walk On.
You might have heard… but two nights ago, Syntagma Square was stormed by the riot police—and now the tent village is not there. People were evicted and some arrested.
Yet, the People's Council still gathered last night—and continued to rock the cradle of democracy.
Hundreds of thousands of Greek citizens have occupied Syntagma Square in Athens for 60 days in protest of their government's austerity measures. Now the Square has been cleared—as has Tahrir Square in Egypt, where armored tanks and riot police rolled in last night.
Are we witnessing the repression and subsequent dissolution of yet another people's movement? Or is something else being born?
Maria and I are back in Greece, after spending a week co-hosting the first Archinool gathering in Israel, with Vanessa (co-founder of the Living Wholeness Institute), Yitzhak, Elder of LWI, and Meni Rosenberg, passionate caller and inspirer of Archinool.  Our 2-day gathering – with 30 others from the region – explored the collaborative creation of power communal places and welcomed the expansion of the Archinool core team as one of its many outcomes.
Our gathering was powerful – and Archinool breathed with more life – so that together, we will continue our work in the coming months in Israel.
The Powers of Place Initiative – July PERSPECTIVES – features my short Essay: Power of the Evolutionary Edge
"If you want to understand the power of the evolutionary edge, simply recall the fragility of a stalactite catching the newness of a droplet forming at its tip, having journeyed from ground level – through moss, stone, soil, rock itself – a miraculous slow-motion subterranean journey taking months, years or even thousands of years to create..."
Sarah Whiteley: Powers of Place Initiative Correspondent
Yesterday, we went for lunch yesterday at Milina – on the inner gulf of the Pelion peninsular.  The winds were so strong that a deep sea swell sent water crashing over the edge onto the taverna floor.  We were requested to sit, in safety, on the other side of the road, closer to the inner table area, nearer the kitchen.
Recognising the tender beginnings of cutting the cords and moving on earlier this morning, the rest of my day was beginning to open to seeing from new perspectives.
Can you hear the whisper?
A call that is barely audible…
Can you hear it beyond the cacophony?
Of revolution – even evolution
What is it saying?
AERA – ELEFTHERIA – FREEDOM
What does it mean?
Be our natural, wild and whole selves
Be – come – sensual
The elegance of physical form greeted my cam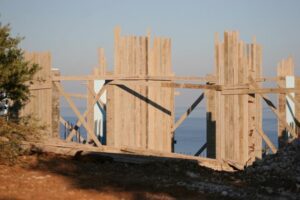 era lens yesterday evening.  Statuesque structures rising out of the base frame, etching the beginnings of a shape the will be a home to so much in the future.
I have been musing this week about how this building process has been consistently inviting me to let go – to liberate, transcend and include the next level of form – again and again.  Every day I see a shift in the physical creation – and have to let go of any attachment to what it was like before.  It is developing, evolving…
I was privileged to know Tony Scordialos, father of Anna, Stella and Maria.
I was even more privileged to be part of his care, in the final years of his life.  He had multiple and conflicting life-threatening health issues that required the skills of a number of specialist physicians to come to his aid.  In essence, they all clearly worked for the good of Kyrie (Mr) Tony – yet, they worked in medical 'silos' – and so their diagnoses were mainly coherent, yet sometimes disturbingly conflicting – sometimes one exacerbating the issues for another doctor to attend to – and certainly for the patient health as a whole.
One particular morning, to the family's utter distress, two doctor's debated heatedly how they should proceed across the bed of the increasingly distressed patient.  The family demanded that them to leave – and to continue their discussion outside.   The sacred space of care and hospicing was being violated and needed protection.